lundi 4 septembre 2006
The Foodbloger's Guide to the Globe - Five Things to Eat Before You Die
Melissa at the Traveler's Lunchbox had the idea to make us choose things we've eaten and think that everyone should eat at least once before they die and La Veuve Clicquot tag me to also answer to this very difficult question…
La Veuve Clicquot has a really nice blog, I like her posts about food of course but also like her posts about dating, I like the way she tells us what happened… as I already said it to her, she is the new Carry Bradshaw!

I also had to choose five things to eat before you die… the top five foods…

DEOK GOOK (you can also read Ddeok Gook, Dduk Gook, Tteok Guk, Ttôkkuk, Ttok Kuk…) or Rice cake soup
picture from "Korean Kitchen"
It is a traditional Korean soup eaten during Seol nal (Sol-nai, Sollal). Seol nal is the name of the Korean Lunar New Year celebration.
The dish consists of a broth (gook) within which is placed several sliced rice cakes (deok). You can also have vegetable, noodle and dumplings in it.

It is a tradition to eat deok gook on New Years because Koreans do not count the age on the basis of their birthday but on the basis of every New Year's day, and so everyone becomes a year older on this day and it is said that one cannot become a year older if they do not eat deok gook on New Year's Day. When you have a dish of deok gook you are one year older. Deok gook on seol nal is also served to wish a lucky year without illnesses.

TOMME DE CHEVRE WITH FIG BREAD (even alone, goat's tomme is something to eat before you die)
A CHEESECAKE IN NEW YORK
To know how a real cheesecake tastes… Buy one and eat it in the street… because you can't wait to taste it!
FROG THIGHS
Yes I'm French and yes I eat frog… and I really like it! Especially cooked just with garlic and parsley.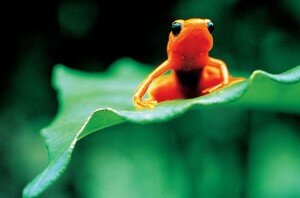 Picture from the movie "Genesis"
And for my last choice I hesitate between different things and I choose the simplest one: fresh RASPBERRIES. Many many many raspberries… I really like raspberry, the hairy softness associated to cracking of the grains... These small pearls are a delight... They are even better if you gather them yourself and eat them while gathering.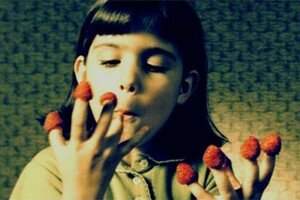 Picture from the movie "Le fabuleux destin d'Amélie Poulain"
Oppsss…. I didn't choose anything with chocolate? Am I sick?

Now I have got to tag 5 bloggers:
Sooishi (Switzerland)
Choupette (Somewhere…)
La feuille de chou (Toronto, Canada)
Estelle (USA)
Alhya (Lyon, France)
Copyright © 2006-2013 Loukoum°°° - Beau à la louche | Tous droits réservés
Commentaires
Poster un commentaire